The 30-year fixed-rate mortgage continued to hover near its all-time low this week, as economists predict that historically low rates will likely remain into 2021.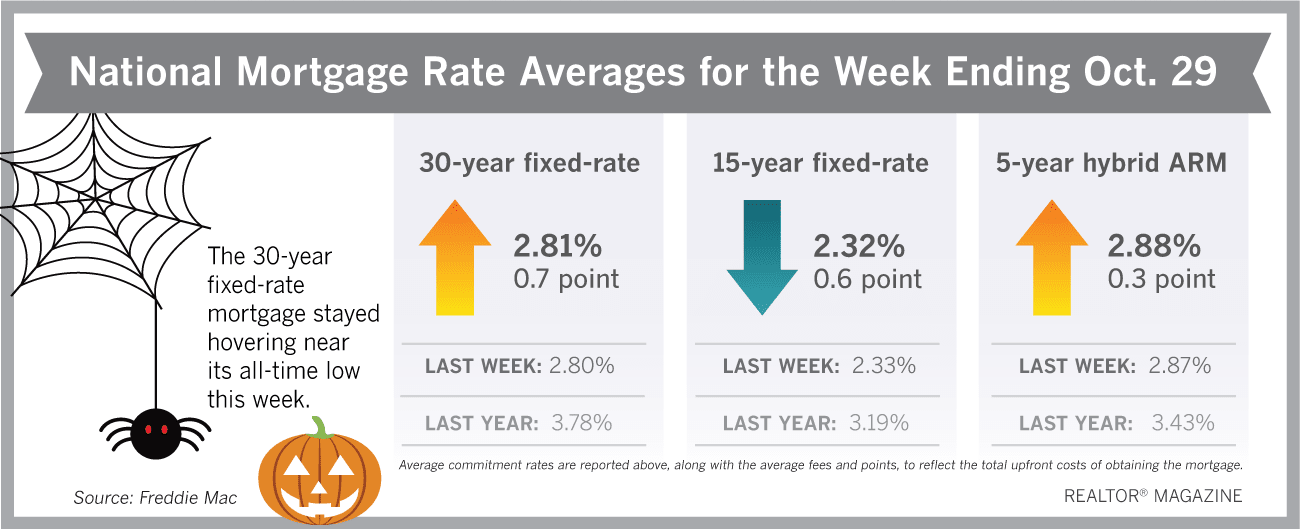 The 30-year fixed-rate mortgage averaged 2.81% this week, up slightly from last week's 2.80%, which was the lowest ever in Freddie Mac's records, dating back nearly 50 years.

"The record-low mortgage rate environment is providing tangible support to the economy at a critical time, as housing continues to propel growth," says Sam Khater, Freddie Mac's chief economist. "Strong purchase demand is helping to lift the construction, manufacturing, and transportation industries that build new homes and it is also leading to more consumer spending for owners, who are selling or improving their home."
Ultra-low mortgage rates have helped homebuying activity to increase by nearly 70% compared to May, writes Nadia Evangelou, a research economist for the National Association of REALTORS® at the association's blog. Many homeowners are also taking advantage of the low mortgage rates to refinance their loans for lower monthly payments. Homeowners could save about $150 per month, on average, on their mortgage compared with rates a year ago. Mortgage rates lately are more than a full percentage point lower than rates over the last five years.
Greg McBride, chief financial analyst of Bankrate, predicts mortgage rates will hold steady into 2021. "Mortgage rates will remain at historically low levels and in no way be an impediment to well-qualified borrowers," says McBride.
The direction of the economy will play a critical role in how long rates stay at record lows, economists add. "Rates will remain low for at least another year," Ken H. Johnson, a housing economist at Florida Atlantic University, told Bankrate.com. "I just do not see full or near-full economic recovery until COVID-19 is no longer or minimally impacts the economy."
Some lenders say rates could fall even lower in the coming weeks. Gordon Miller of Miller Lending Group in Cary, N.C., told Bankrate.com that the combination of economic volatility and political uncertainty could make rates go lower. "I don't think we've bottomed yet," Miller told Bankrate.com. "That would suggest a rate within a quarter-point of where we are."
For the week ending Oct. 29, Freddie Mac reports the following national averages with mortgage rates:
30-year fixed-rate mortgages: averaged 2.81%, with an average 0.7 point, up slightly from last week's 2.80% average. Last year at this time, 30-year rates averaged 3.78%.
15-year fixed-rate mortgages: averaged 2.32%, with an average 0.6 point, falling slightly from last week's 2.33% average. A year ago, 15-year rates averaged 3.19%.
5-year hybrid adjustable-rate mortgages: averaged 2.88%, with an average 0.3 point, rising from last week's 2.87% average. A year ago, 5-year ARMs averaged 3.43%.
Freddie Mac reports average commitment rates along with average points to better reflect the total upfront cost of obtaining the mortgage. A point is the fee that buyers usually pay to get a better rate.
Call me today and we can talk options to find the right situation for you.